Jackson Stormes:A Difficult and Amazing Journey
Living with Dravet Syndrome and all the complications
Hope Township mother, son to urge Gov. Christie to sign kids' access to medical marijuana bill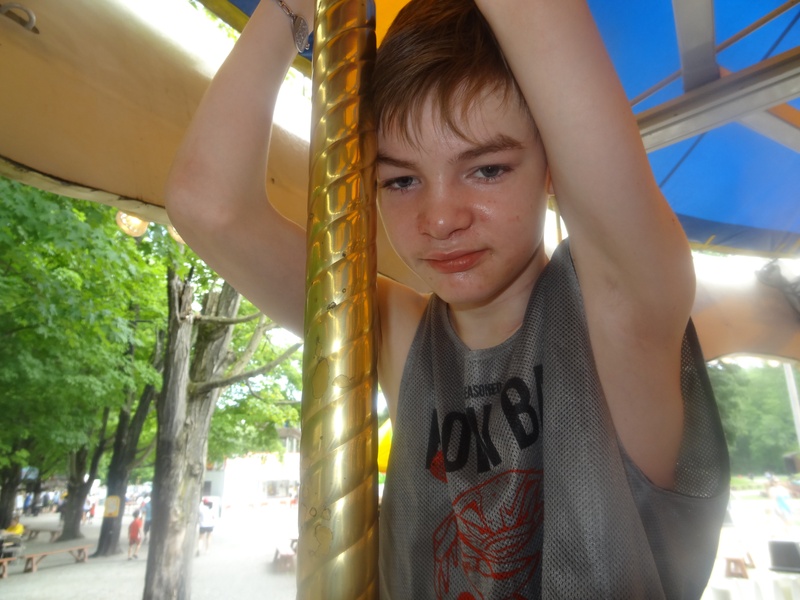 By Andrew George | The Express-Times
on July 27, 2013 at 6:00 PM, updated July 27, 2013 at 6:03 PM
Last Tuesday night, 14-year-old Jackson Stormes suffered through 12 seizures in a Bergen County hospital.
The Hope Township teen and his mother, Jennie Stormes, were at Hackensack University Medical Center for a week while he received treatment for Dravet syndrome, a severe form of epilepsy that was diagnosed in 2009.
Jackson had part of his frontal lobe surgically removed to no avail, and when it comes to drugs, Jennie Stormes said, her son has endured the consequences of trial and error.
More than 50 different tries, all errors.
That includes a recent setback on stiripentol, an anti-epileptic drug manufactured in Europe that required special clearance from the U.S. Food and Drug Administration for Jackson to use. He showed signs of improvement on the medication but ultimately the progress was limited.
"I just want my son to be able to live a day without a seizure," Jennie Stormes said.
That's why she and her son will travel to Trenton next week to hand-deliver signed letters urging Gov. Chris Christie to sign a bill passed last month by the Assembly and Senate that would make the state's nascent medical marijuana program more accessible to sick children.
They will accompany another New Jersey family with a 2-year-old girl also diagnosed with Dravet.
Governor reluctant
State law currently mandates that children must obtain separate recommendations from a treating physician, a psychiatrist and a pediatrician to be granted access to the medical marijuana program. Adults are only required to receive a recommendation of a treating physician.
Though Christie has not yet made a final decision on the bill, he has shown reluctance in widening the program's reach to include kids.
The bill would not only reduce the recommendations for minors to one but also pave the way for state dispensaries to grow a variety of marijuana strands, some of which might be edible and more easily used by children.
Though Christie has yet to make a final call on the bill, he has shown reluctance in widening the program's reach to include children.
A Christie representative last week directed an Express-Times reporter to comments the governor made about the bill at an unrelated news conference July 2 in Seaside Park.
While the state's program is available to adults suffering from terminal or debilitating illnesses warranting the drug's use, Christie said he was "very reluctant" to arbitrarily apply the same rules to children.
He also took issue with the complaint by some bill advocates that requiring children to seek out three different recommendations was burdensome.
"I don't understand why that's a problem, and you know, if folks can't get physicians to sign off on this then that tells me something," Christie said. "This is supposed to be a medically based program that is there as a last resort, not as a first resort, and so I'll look at the bill."
Every state legislator from the 23rd and 24th districts, all Republicans, either abstained or voted against the bill, which is sponsored entirely by Democrats. But Jennie Stormes doesn't believe the issue has been or should be determined by partisan politics.
"It doesn't make sense to me because I'm speaking as a mother," she said. "I personally am speaking to the humans in front of me, not to the Republicans and the Democrats."
Better option
Despite the stigma some people attach to marijuana, Jennie Stormes said, the strand she's hoping will become available in New Jersey is a non-psychoactive one. In particular, she's lobbying for a strand that's high in cannabidiols, or CBD, rather than tetrahydrocannabinol, noting "there is more to medical marijuana than THC."
"Our kids aren't going to get high," she said.
In situations such as Jackson's, the traditional threat of marijuana as an addictive gateway drug doesn't really apply, Stormes said. Jackson is currently receiving treatment for his addiction to the slew of pharmaceuticals he's gone through in recent years, and Stormes said the double standard doesn't make sense.
"The potential for abuse is no different than codeine," Stormes said. "Why are we so afraid of this drug?"
Stormes said the issue regarding the required recommendations is in its implementation rather than its intention. She said procuring a psychiatrist and a pediatrician along with a treating physician is costly and carries with it the potential for the process to be unnecessarily delayed.
For children who do not regularly see their own psychiatrist or pediatrician, asking doctors not familiar with a patient to speedily sign off on the controversial medication is an "unrealistic expectation," Stormes said.
"My goal is to make it appropriate," she said.
And though Jackson has since obtained all three recommendations needed to receive his medical marijuana card in New Jersey, Stormes said, her son hasn't been able to use it as she can't even get a call back from the state's lone operating dispensary, the Greenleaf Compassion Center in Montclair.
Greenleaf's website states that the center is scheduling patients in the order they received their state medical marijuana card. A February report from The Record of Bergen County indicated that the center was overrun with requests and patients were experiencing considerably long wait times.
A second dispensary planned for Atlantic County received state approval last month and could open in the fall.
Some success
Stormes said it's important to note that her request is not unfounded in that Jackson has used medical marijuana as a registered patient in California where he lives with his father part time, and that it's proven to be successful. While using the drug in California, she said, Jackson experienced fewer seizures.
"He improved so much," Stormes said of Jackson's time in California.
She said she fears that if Christie doesn't sign the bill into law, she might have to relocate to California or Colorado, which can also provide Jackson with access to the strand he requires, and leave New Jersey for good.
But that would require her to find a new job and uproot Jackson from his home, a prospect she thinks would be "detrimental" to any progress he's achieved through the years.
"I'm hoping that passionate care comes to New Jersey finally," Stormes said.
/