Jackson Stormes:A Difficult and Amazing Journey
Living with Dravet Syndrome and all the complications
Hope Township boy with severe epilepsy experiences change on new medication
Published: Monday, December 26, 2011, 4:49 AM
By Phillip Molnar | The Express-Times Express-Times Photo | MATT SMITH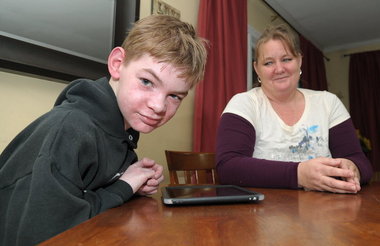 Stormes spends every available moment with 12-year-old Jackson, even sleeping in his room to reduce the risk of him dying in his sleep. But that doesn't mean they've had a substantial conversation.
Jackson has a rare and severe form of epilepsy called Dravet syndrome, which causes frequent seizures that can last hours.
The condition is incurable, immune to surgery and does not respond to most medicine.
Only five weeks ago, Jackson was having up to 20 seizures a day and was so medicated he could barely function, let alone speak, his mother said.
Drug cocktails, and even having part of his brain's frontal lobe removed in 2008, made little difference.
Everything changed when Stormes, after more than a year of trying, received clearance to give Jackson a drug from France called stiripentol that the U.S. Food and Drug Administration has not approved for use.
Stormes teared up two weeks ago at her Hope Township home as she said Jackson had not had a seizure in five days and was articulating like never before.
"It's been really nice," Stormes said. "It's not constant on guard."
It is not just Jackson's mother who has noticed a difference in his capabilities.
"He actually speaks some sentences now," said Jackson's school bus driver, A. Morris Scott Jr.
Scott, who is also a Belvidere Town Council member, said Jackson used to seem "lethargic" or "drugged."
"He seems more alert," Morris said. "He wants to talk about things: 'There's a cow! There's a motorcycle! There's a truck!'"
Jackson's 16-year-old sister, Sidney Stormes, said he seems friendlier and expresses emotions like never before.
Dr. Elaine Wirrell, the director of pediatric epilepsy at the Mayo Clinic in Rochester, Minn., said those close to Jackson are seeing real improvement.
Wirrell said Dravet patients who find the right mix of medication -- such as stiripentol, which she calls very effective -- can see their life improve.
Once doctors reduce frequent or prolonged seizures, she said, "There is less risk of those seizures causing brain injury (and) causing learning problems."
Difficulty administering
Stormes said she was warned the drug could lead to severe loss of appetite, decreased metabolism and anorexia. But she said Jackson hasn't experienced those and that the drug is worth the risk.
"I always have to choose between ... bad and badder," she said of the drug's risks. Without the drug, she said, "he's dealing with the side effects of not learning, not being able to grow up and develop.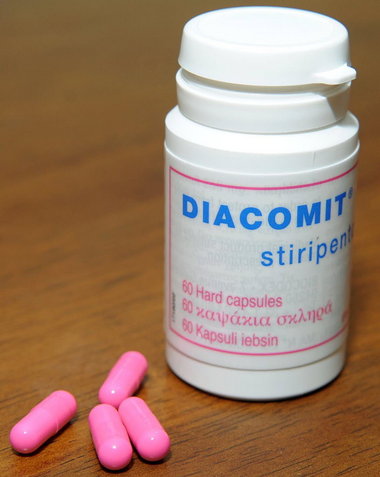 The FDA allows Jackson stiripentol despite its status as a so-called orphan drug, a promising but developmental medicine for rare diseases. His Horizon Blue Cross Blue Shield of New Jersey insurance pays for it.
But Jackson's nurse, who is with him most of each day, is prohibited from giving him the little pink pills with his other medication.
Though not approved for use by the FDA, stiripentol is benefiting Jackson, his mother says.
Atlantic Private Care Services, a division of Atlantic Health System, citing FDA regulations, says it would have to review stiripentol itself before its employee, Jackson's nurse, could administer it.
Atlantic spokeswoman Janina Hecht said the company cannot let nurses give the drug to Jackson until it goes through the process.
The company's review board takes, on average, three months to complete its analysis of a drug but would expedite the process for Jackson, Hecht said.
"It has nothing to do with what we want to do or what we don't want to do," Hecht said. "It's just standard procedure."
And before Atlantic could begin its view, Jackson's prescribing physician -- a Hoboken, N.J.-based doctor from the Northeast Regional Epilepsy Group -- would need to initiate the procedure.
The doctor declined comment, citing health privacy laws, but Jennie Stormes said he had been ignoring Atlantic because he thought the company had no right to ask for an internal review board.
"If something were to go wrong, and then it was determined ... it did not go through the (internal review) process, the nurse's license is at risk," Hecht said.
Earlier this month, the nonprofit Advocacy for Patients with Chronic Illness Inc. wrote a letter to Atlantic Health System challenging its legal analysis.
The Farmington, Conn.-based group said Atlantic was confusing stiripentol's status as an orphan drug with a personal drug.
It wrote that stiripentol's status with the FDA was "irrelevant to Jackson's use and your nurses' administration of the drug."
Jackson's doctor has since contacted Atlantic's review board and is trying to come to an understanding with the medical group, Stormes said.
While Stormes waits for an answer, she struggles to get home to give Jackson his medication three times a day while holding three part-time jobs.
A single mother, Stormes teaches notary classes, is a substitute nurse for Warren County schools and is a nurse case manager at the Homestead nursing home's Passaic and Morris county branch. She is also pursuing a master's degree in nursing.
A very frustrated Stormes said she had a hard time reasoning with Atlantic Health System and dozens of doctors.
"What's important is my son is doing better on this drug," she said.
Rare disease
Laura Cossolotto, of Centerville, Iowa, gazed through tears as her daughter, Michaela, underwent a skin biopsy in 2002.
"I watched them cut a chunk of her skin off," she recalled last week.
Doctors tried every procedure, test and drug combination possible to discover why Michaela had constant seizures.
Cossolotto spent every free minute searching the Internet for any information she could.
Finally, after 10 and a half years, Wirrell, from the Mayo Clinic, diagnosed Michaela with Dravet syndrome.
Dravet syndrome, also known as severe myoclonic epilepsy of infancy, is a seizure disorder caused by a gene mutation, according to the U.S. Centers for Disease Control and Prevention.
Those with Dravet often have seizures before the age of 1. Dravet patients do not respond well to epileptic medicines and experience wide developmental delays, Wirrell said.
"Children with Dravet, despite our best efforts at trying to control their seizures, continue to have seizures," Wirrell said.
Shortly after the diagnosis, Cossolotto began the struggle to get her daughter stiripentol.
"It's not even anywhere close to being affordable. It's more than a mortgage payment," Cossolotto said. "Most people could pay upwards of $1,000 a month."
Cossolotto even considered putting a 3-month supply on a credit card.
After four months, the determined mother convinced the FDA to allow her to get the drug and her insurance company to pay for it.
"I could tell the difference immediately," Cossolotto said.
Michaela had roughly 120 seizures a year before the medication and now has one or two a year, she said.
Dr. Ian Miller, director of neuroinformatics at Miami Children's Hospital, said there is "no question there are anecdotal examples of really dramatic improvement with this medicine."
An expert on Dravet, he said that in one extreme example, a patient was stuck in the intensive care unit of a hospital because of seizures so severe the patient needed a medically induced coma to be treated.
Once on a drug cocktail that included stiripentol, the patient left the hospital and was seizure-free for more than a year, he said.
"It is really the only medication that has been proven to work for this specific type of epilepsy," he said.
Cossolotto, who is now president of Dravet.org, said what makes Dravet so difficult is that a diagnosis is sometimes only clinical -- meaning even a negative gene test does not rule out the illness.
Roughly 20 percent of patients with the diagnostic criteria of the syndrome test negative for a mutated gene, according to a 2002 report from the Centre for Genetics Education in Australia.
Wirrell is concerned the syndrome is under-diagnosed.
"I think things are getting better, but it is still a diagnosis, that in many cases, we are making too late," she said. "We are making it years after a child has years of uncontrolled seizures before it is really recognized."
Wirrell said roughly 5 percent of children with early onset epilepsy may have the syndrome but there has never been a careful population study.
Advocates put the Dravet population at very high numbers. Medical professionals are hesitant to give an estimate.
Also making the diagnosis difficult: Dravet symptoms vary from patient to patient. Michaela, now 15, has a much less severe case than Jackson. She talks on the phone to her friends and has a Facebook page, her mom said.
Jackson's home life
 "What is important is my son is doing better on this drug," Jennie Stormes said.
 Two weeks ago, the Stormes had a surprisingly normal Friday night.
Sidney Stormes brushed her hair in a mirror before a friend's sweet-16 party, Jennie Stormes prepared a meal, and Jackson enjoyed one of of his favorite drinks, decaffeinated coffee.
"He just likes whatever he sees other people drinking," Sidney Stormes said as she motioned for Jackson to give her a high five.
For fun, Jackson engages stares underneath the kitchen table, watches "Barney & Friends" and wears a Michigan Wolverines football helmet given to him by a nurse.
A faux Christmas tree and a television lit the Stormes' living room while Jackson, wearing a Spider-Man sweater, seemed fascinated by a photographer's camera.
Although it was the kind of evening most families take for granted, the normalcy of the situation has been a major life change for the family.
Jackson started having seizures at 4 months old.
Yet, considering doctors said Jackson would never walk or talk, Jennie Stormes is grateful.
"It's Jack!" Jackson said, smiling at his mom.
"It's mom!" they said in unison, before Jackson swung his head back down to stare at an iPad playing an episode of "Barney."
"He's a big ham," his mother said.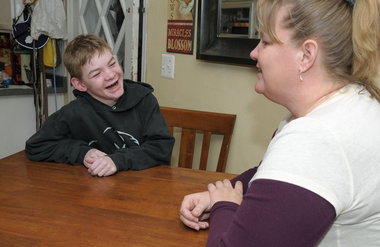 © 2012 lehighvalleylive.com. All rights reserved.
/