Jackson Stormes:A Difficult and Amazing Journey
Living with Dravet Syndrome and all the complications
This article from the Lodi News Sentinal waswritten by Alex Lazo.  He received the 2004 Journalist of the Year Award from the Epilepsy Foundation of America.
Thank you Alex for sharing with others the reality of our world.
Riding Out the Stormes
Couple hopes for normal life for their epileptic son
By Alejandro Lazo
News-Sentinel Staff Writer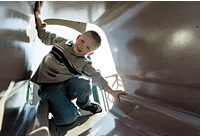 Jackson Stormes, 4, plays  at the top of a slide at Legion Park. 
Stormes suffers  from epilepsy and has experienced more than 100 minor seizures a day. 
(Jennifer M. Howell/News-Sentinel)
It's a crisp afternoon and 4-year-old Jackson Stormes is attacking Lodi's Legion Park playground like a young lion.
His lungs belt out a roar as he climbs onto the jungle gym here and jumps wildly up and down on the middle of the play suspension bridge, frightening a smaller girl away from it.
"Jackson, play nice," yells his mother, Jennie Stormes, from a nearby park bench.
Jackson Stormes later climbs his way to the top of the jungle gym again, this time approaching the slide. But now he starts to slow down. His eyes begin to flutter, like a butterfly shaking its wings. The boy hesitates and stops. Stormes changes his mind and slowly backs down the ladder again.
When he reaches the last rung, he lets go and falls into the playground bark below. He begins convulsing. Every muscle in his body is rigid yet trembles.
A woman nearby starts screaming for help.
Jennie Stormes bolts off the bench to the spot where her son has fallen. She sweeps him up in her arms and breaks into a dead run to where her car is parked on the street.
Other children and parents just stand and stare.
When Stormes gets to her car, she lays her son down on the grass and unlocks the door. From inside, she pulls out a black bag with an oxygen tank and affixes a tube to the boy's nose. She quickly turns the small tank's handle.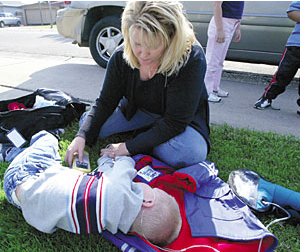 His contractions slow. His chest begins to heave deeply. The seizure ends.
Stormes rubs her son's chest and talks to him soothingly. He rests.
Jackson Stormes has an uncontrollable case of epilepsy. The boy had his first seizure when he was 4 months old. His parents have tried countless medications and therapies, but nothing seems to work.
Finding a place for her son in the public schools has been particularly trying for Jennie Stormes, but she and her husband have hopes that their son will one day lead a normal life.
The answer to when and how just hasn't come yet.
A rambunctious life
Watching Jackson Stormes play on a jungle gym, he seems like a rambunctious but otherwise normal blond and blue-eyed 4-year-old. He loves to play ball and swim in his backyard pool over the spring and summer. He plays catch with his dad. He can catch a football from 10 feet away, his father, Tim Stormes, said proudly.
For Christmas, he was given a new bike with training wheels. He rides it like it's connected to him, his mother says.
Yet Jackson Stormes can have dramatic convulsive seizures nearly every day or every other day. These seizures are known as generalized tonic-clonic seizures, but are also known by the older name of grand mal seizures.
These tonic-clonic seizures are the type that most people imagine when they think of epilepsy, although there are several different types of seizures, as well as different kinds of epilepsy. Stormes has a severe case of generalized epilepsy, says Dr. Donald Olson, an epileptologist at the Lucile Packard Children's Hospital at Stanford University. The young boy's type of epilepsy involves his entire brain and makes treatment by surgery difficult, Olson said.
Stormes has many different types of seizures. Not all of them are the tonic-clonic type that make him convulse severely. In fact, he can have hundreds a day, the most typical kind are myoclonic seizures which send jerks and twitches of varying degrees through the muscles in his upper body.
But each tonic-clonic seizure that Stormes endures is potentially fatal, and leaves him unconscious and utterly spent. Some of these seizures have lasted as long as an hour. They are frightful to watch. They scare even his doctors.
No drug or combination of drugs has yet been able to control the boy's seizures. Doctors have tried more than 20 different medications or combinations of medications, his mother said.
While many young children with epilepsy often respond to medication, Stormes may fall into that minority (10 to 15 percent of all cases) whose seizures can't be controlled by drugs, Olson said.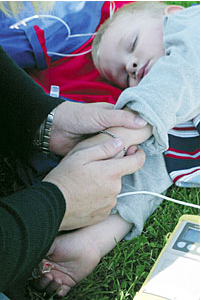 Jennie Stormes holds the hands of her son, Jackson, 4, as he comes out of a seizure which was brought about due to his epilepsy after playing at Legion Park in Lodi. (Jennifer M. Howell/News-Sentinel)
Olson admits that the chances of finding a medication that will control Stormes' severe seizures appears slim -- but everybody just has to keep on trying.
"Although there are many seizure medications, there are only three or four basic kinds," Olson said in a telephone interview.
Seizures are typically the result of abnormal excitation or inhibition of the brain. Anti-epileptic medications work by either reducing stimulus to the brain or increasing that activity.
Either, "too many brain cells are on or too many are off," Olson said. "Medicines work by restoring the balance. It's like a teeter-totter: You can push down on one side or the other" to restore the balance in the brain.
Sensation and hardship
When Stormes had his first seizure it lasted 10 minutes and, like many more to follow, ended in a trip to the Lodi Memorial Hospital's emergency room.
On that first trip, he was given oxygen by a doctor and sent home. Just a week later, he had another seizure. He was then prescribed an anti-epileptic drug called Phenobarbital, one of the first of these kinds of medications. Since then, doctors have prescribed drug after drug. All of them have had varied side effects, including lethargy and educational delays. None of them have controlled his epilepsy.
When Stormes was younger, he would pick up toy cars and drop them on different parts of the ground, searching for the loudest crashing sound they could make. He would do it over and over. It was the same thing with his mother's kitchen plates, which she has since replaced with plastic ones.
He would also bang his head against things, hit himself, and put a toy with a high-pitched beep up to his ear and hold down the beep button. His parents don't know if this behavior is a part of his epilepsy or whether its a side affect of medications or another symptom of his abnormal brain patterns.
But his brain is constantly seeking sensation.
"Whether it's a swing or a slide, he seeks everything with texture," Jennie Stormes said. "He'll run his fingers across a cheese grater. It gives me the chills."
Jackson Stormes has undergone physical, occupational, speech and behavioral therapy from organizations like the Easter Seals, Valley Mount Regional Center and United Cerebral Palsy.
From this therapy, Jennie Stormes has learned how to help feed her son's need for sensation, and how to live with his epilepsy better. She wraps him up in a blanket and tickles him. She lets him swim in the backyard pool with a life jacket on.
When he was 11 months old, workers from the Valley Mount Center said he was testing at an 8-month level. That gap has widened. When he was 2, he was at 12-15 months. Now, at 4, he's still testing at 15-18 months in speech and 2 years in some other areas. The delay is mostly due to his abnormal brain patterns, Olson said. His delays are also from the side effects of all the medications he has taken, although Olson attributes the preponderance of his lack of development to his disease.
However, his mother blames the medications, but says she has to place her faith in her doctors.
Olson says that it's not unusual for parents to blame the drugs.
"I'm extremely frustrated. I don't know how to help him," Jennie Stormes said. "It's been really hard. His educational delays keep getting wider and wider."
Finding a place for Jackson
Jackson Stormes began his education in a preschool program with the Valley Mount Center. He went on to a federal Early Start preschool program at the Dorothy Mahin Elementary School in Lodi when he was 2. While at Mahin, Stormes was not inhibited by his epilepsy because he was on a special diet called the ketogenic diet -- a strict fat- and protein-based diet that controlled his seizures.
But eventually, that diet failed as well. He would break it too often and the seizures would return. Every time he broke the diet, he would have to go without food. The boy lost 10 pounds during his last month on it, Jennie Stormes said.
Once he was back on medications, Jackson Stormes was enrolled at a Communicational Handicapped class within the Lodi Unified School District at Lawrence Elementary School. Today, he remains at Lawrence and his teacher is Sara Rouse, a speech therapist there. But school district officials have told Jennie Stormes that he is falling behind, and that he needs to be placed in a class for children with more severe disabilities.
Jackson Stormes is late in learning how to speak. He communicates more with hand gestures and sign language than with words. He is very hyper, running up the walls, and has trouble socializing normally with his classroom peers, his mother says.
But Jennie Stormes has resisted moving her son to a class with other children who have severe learning disabilities. Despite his epilepsy, she believes her son can earn a high school diploma and then move on to study at a university one day. If Lodi Unified doesn't have a program that meets his needs, they are required to create one. She contends that there still isn't a place for him within the school system next year.
"They're baby-sitting him," Stormes said. "I want them to give him an education."
Getting the district's side of the story isn't easy, as confidentiality laws limit officials from speaking about an individual student's case. Catherine Conrado, in charge of the Special Education Local Plan Area for the LUSD, could only reply to News-Sentinel inquiries by saying she couldn't discuss Jackson Stormes' individual case.
However, school districts are required by the federal Individuals with Disabilities Education Act to provide what is known as a free and appropriate education, Conrado said. This law states that an Individualized Education Plan must be created to meet Stormes' special needs. While the boy does have such a plan with the district, his mother says it's inadequate for him.
The district is able to meet Stormes' needs, Conrado said, but declined to elaborate due to the constraints the privacy law places upon her. At times, parents do disagree with the school district though, Conrado added.
Hope for the future
To deal with the sudden seizures, the long emergency room waits and car trips to Stanford, both of Jackson Stormes' parents have had to change their lives significantly. Jennie Stormes now works her own hours as a notary public after quitting her job as an accountant for a doctor's office.
Tim Stormes is a police officer who works for the Stockton Unified School District. He is forever thankful to an understanding chief who has allowed him to take off in emergencies and has been very supportive throughout his son's illness.
The couple also have an 8-year-old daughter, Sidnee, who has had to learn about her brother's condition at her own young age. Sidnee Stormes is in the second grade at the Joe Serna Elementary School. This charter school has a concurrent Spanish bilingual program, where she is learning Spanish. It's a program that Jennie Stormes would like to see her son in one day.
Tim Stormes says that he and his wife were both naive about their son's condition when they made the first trip to the hospital, almost four years ago.
He thought doctors would tell him, "This is the problem, here's how you fix it, let's go." But, he says, over the years he has learned that doctors aren't gods, they're just people who have gone to school longer than most of the rest of us.
Every father wants their boy to grow up and play football, Tim Stormes said, but what he really wants for his son is for him to stop having seizures and grow up healthy. It's that wish that lets him keep trying what the doctors tell him to do.
"He wakes up smiling. He tells everybody 'Hi,' but he drops out sometimes (because of the epilepsy)," Tim Stormes said about his son. "Otherwise, he's just like a normal kid."
But when Jackson Stormes was born, Jennie Stormes seemed to sense a large change looming in front of her. Unlike the storm that's been her son's disease, it was a winter fog, a mysterious intuition. So soon after his birth, she quit her job at the doctor's office and started her own business as a notary public.
"I didn't know what was coming, I just knew I had to be with him," Jennie Stormes said.
Two weeks after she quit her job, he had his first seizure.
Jennie Stormes' experience working at a doctor's office was invaluable, she says. It taught her how to deal with the medical bureaucracy and insurance companies. Fortunately, Tim Stormes' insurance has paid for the medi-flights the emergency room trips, doctors and medications.
Now the couple hope to create a special educational program for Jackson here in Lodi. It's called the Son-Rise program, and was created for a severely autistic child on the East Coast. The program has been profiled in a book called "Son-Rise: The Miracle Continues."
Jennie Stormes read that book, a Christmas gift from her mother-in-law. She hopes the program might be right for Jackson Stormes. Jennie and Tim Stormes are even taking a trip to Sheffield, Mass., in February to learn more about it.
As for the seizures, the Stormes, and Jackson's doctors still hope to find something that will control the tonic-clonics. Those are the ones that keep getting in the way at school, at the supermarket, at home and everywhere else.
"Every time we try a new drug, we hope that's the one," Tim Stormes said.
Contact reporter Alejandro Lazo at [email protected]
Categories: January 2004-Riding Out the Stormes
Comments are disabled.
/